Indulge Your Senses: Chocolate Offers Full Catering Services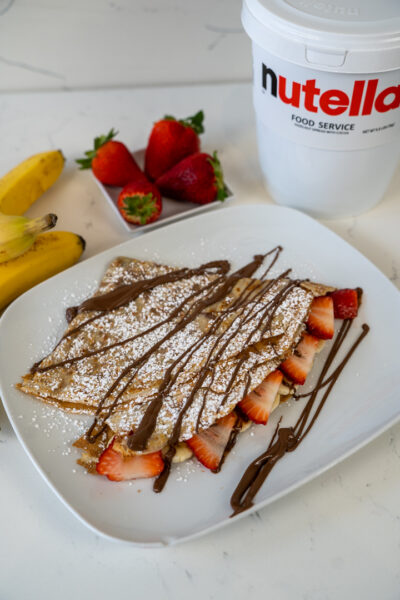 Calling all dessert lovers! We are excited to announce that Chocolate now offers full catering services. Known for our delectable desserts we have taken the bold step to bring our expertise and passion for sweetness to the world of catering, bringing the irresistible charm of crepes right to your party. Whether you are planning a wedding reception, corporate event, a birthday party, or a family get together, Chocolate is here to serve you with our sweet and mouthwatering desserts.
Crepes are not just any ordinary dessert. They are thin, delicate pancakes with a world of possibilities when it comes to flavors and fillings. For example, Bananas and Nutella, Bananas and Chocolate, Mascarpone and Nutella, Strawberry and Nutella, and Strawberry and Chocolate. With our catering services, you can treat your guests to a delectable array of crepes that are sure to impress.
So, why are crepes the perfect addition to your party? Let's delve into three reasons why these delightful treats are a crowd favorite:
Exquisite Presentation: An enticing aspect of crepes is their lovely presentation. Watching a skilled crepe chef swirl the batter and fill it with delicious ingredients is a feast for the eyes.
Made-to-Order Freshness: With our catering services, you can enjoy the experience of having fresh crepes made right in front of you and your guests. Watching us swirl the batter, fill it and smelling the aroma of warm sweet crepes being cooked to perfection.
Crowd-Pleasing Treat: Crepes are a crowd-pleasing dessert choice that appeal to people of all ages. Whether you are hosting a wedding reception, corporate event, birthday party or a family get together, it's something everyone is sure to enjoy.
Chocolate in San Diego is here to ensure a seamless and delightful experience for you and your guests. So, contact us today to inquire about our catering services. Feel free to fill out the catering form on our website, email us at info@chocolatesandiego.com or give us a call at (619)238-9400. Let us bring the sweetness to your party!