The Differences Between the Two
Savoring a frozen dessert is a timeless pleasure that known no boundaries. Among the plethora of delightful options, two classics often take the stage: gelato and ice cream. Both are beloved desserts, yet each boasts unique qualities that distinguish them. At Chocolate San Diego, where we craft gelato on-site daily, our expertise in all things gelato allows us to guide you through the delightful nuances that set these frozen delights apart and how Chocolate San Diego is a must visit for the best gelato in San Diego.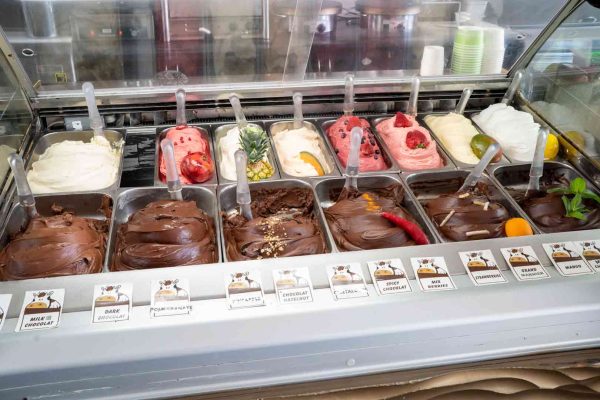 Serving Temperature
Ice Cream: Ice Cream is served at colder temperatures. Usually at around 10°F.
Gelato: Gelato is served at a slightly higher serving temperature compared to ice cream. This makes the gelato to be a much smoother and silkier experience.
Flavor
Ice Cream: Ice cream tends to have higher fat content that makes it difficult to actually taste.
Gelato: Gelato on the other hand has lower fat content that allows for a more intense flavor experience.
Texture
Ice Cream: Ice cream has a lighter and airier texture.
Gelato: Gelato offers a smoother and silkier texture compared to ice cream.
Best Gelato in San Diego
Indulging in the best Gelato in San Diego begins at Chocolate where we serve the best San Diego desserts. With a staggering selection of over 20 flavors of gelato, we pride ourselves on creating a world of exceptional taste and unforgettable moments. Our quest for excellence takes us on a journey that combines the choicest ingredients and masterful craftsmanship to deliver unparalleled gelato offerings.
At the heart of our gelato is an array of flavors that defy the ordinary. From the classic favorites like vanilla gelato and caramel gelato to the more adventurous options like citrus fruits, every scoop promises an exquisite burst of taste. So whether you're in the mood for a timeless classic or an adventurous new creation, Chocolate stands as the ultimate destination for those who seek the best gelato in San Diego.
Our Gelato Flavors
White Chocolate-Milk Gelato, Dark Chocolate Gelato, Chocolate-Rum Gelato, Vanilla Rum Gelato, Caramel Gelato, Peach Gelato, Brittle Gelato, Coffee Gelato, Cantaloupe Gelato, Hazelnut Gelato, Apple Cinnamon Gelato, Banana Gelato, Cinnamon Gelato, Pumpkin Gelato, Blood Orange Gelato, Chocolate-Chili Gelato, Coconut Gelato, Poppy Seeds Gelato, Pomegranate Gelato, Chocolate-Milk Gelato, Nutella Gelato, Honey Gelato, Wild Berries Gelato, Chocolate Gelato, Cream Gelato, Rum Raisin Gelato, Strawberry Gelato, Chocolate Hazelnut, Pistachio Gelato, Oreos & Cream Gelato, Wild Berries Yogurt Gelato, Mint Chocolate Gelato, Tiramisu Gelato, Lemon Gelato, Vanilla Bean Gelato, Amaretto Gelato, Mango Gelato
Chocolate San Diego
Visit us today in Gaslamp Quarter for the best San Diego desserts and the best gelato in San Diego at Chocolate San Diego. Feel free to view our dessert menu here. We are open Sunday-Thursday from 9am-12am and Friday-Saturday from 9am-1am. If you have any questions please feel free to give us a call at (619)238-9400.
Address: 509 5th Ave San Diego, CA 92109